SUNDAY SCHOOL - 10 AM

Learn God's word and make Christian friends!
The Bible is the foundational document of our faith and also of civil society. Our kids need to understand where the Wisdom that made democracy and servant leadership the strength of our society came from. Learning the Bible is important to understand God's enduring faithfulness to imperfect people throughout time and the incredible gift and witness of Jesus Christ who loves and equips us through the gift of the guiding Holy Spirit to become Godly leaders and helpers! We teach it from the grace filled, loving, service minded theological perspective that we believe Jesus modeled for us. God created us out of love to love and serve one another as Jesus did.
Nursery for infants-3 year-olds (3 year-olds at parents discretion)
PreK in Smith Hall with Karen H & Carol (Children must be potty trained)
Kindergartners/1st Graders in Rm. 112 with Catherine, Kirstin, Gretchen, Diana and Reid
2nd Graders in Rm. 110 with Beth, Karen D, Matt & Tricia
3rd Graders in Rm. 104 with Adrienne, Scott, & Kyle
4th/5th Graders in Rm. 209 with Donna, Jim , Karen Z. and Randy
CHILDREN'S WORSHIP at 9 AM
Worship is a key habit for building and maintaining spiritual strength, growing in faith and Godly wisdom and Christian friendships. Sporadic faith building never results in as great a strength as a consistent habit. AND... it makes God really happy!
Infants - three year-olds - Nursery (Room 202) will be lovingly cared for.

More Info about our Nursery
PreK & K - in Smith Hall (Room 115 all the way at the end of the lower education hall).
Children's Church (for 1st-5th Grade) - in our Youth Room (215) In a small, multi-age setting children will learn some of the traditions and songs of faith. Through prayer, stories, videos, and interactive activities, children are encouraged to ask questions and to develop relationships with each other and with Jesus.
WHY bring your children to church?
It IS possible to make regular church attendance a normal part of your family life without engendering lifelong resentment. It doesn't work and it is not faithful to wait for your child to "choose for themselves." Click HERE for ideas!
Bible Buddies Wednesdays
Stay Tuned for Dates
Bible Buddies is our mid-week program for kids from 2nd-5th grade in which we make memorizing scriptures fun! Kids memorize all kinds of things from song lyrics to advertising jingles to political catch phrases. Do they have the guiding principals of Jesus pop into their minds when they face challenges or are with a friend who is sad or in trouble? Memorizing scripture makes it much more likely that THOSE words will come to mind in those situations.
Joyful Noise Children's Choirs
For 2nd grade and up will resume NEXT Sunday, September 9, at 9:00 am in Room 207. We will prepare for our Advent musical, "Star of Wonder" which will be presented during the Christmas Eve Family Service.
A parent meeting is set for Sunday, September 16, at 9:00 am.
Contacts are Cheryl Heffner and Brooke Whalen-Robinson.
Communion Education:
God's Family at the Table.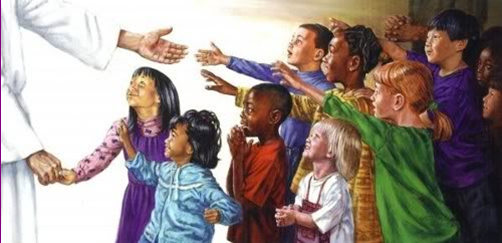 This annual Sacrament Education class is to help 2nd-5th graders WITH their parents understand baptism and communion before participating in communion (or to help them better understand communion). It is offered once a year during Lent. This year's class included opportunities to learn about how Jesus transformed the Passover celebration of Moses' time to the beginning of an exciting and important New Covenant (promise) in Him! His Last Supper was the beginning of our "remembering him" by honoring and rededicating ourselves to His Word and work in our monthly celebrations of the sacrament of communion. Using clay work, coloring, guided family conversations and the making and eating of flat breads we will have deliciously important conversations about the name we have all been given through faith: Christian!
Note: Any families interested in requesting baptism for their participating children are asked to let Cordelia and a Pastor know ahead of time so that a more in-depth baptism education class can be included.
NEW-- Pastor Frank's Bible Study and Q & A on baptism 3/23/14
-To access the sections of the Book of Order (PCUSA) on the theology and practices of the Presbyterian Church regarding children participating in communion if they have been prepared and understand click here
receiving baptism click here

Family Lending Library:
Check out Rm. 102 and our Church Library for parenting resources, family devotionals, Children's Bibles and kids Christian stories on videos and computer games are also available to bring the Bible into your home during the week. Children's Ministry Family Resources
Puzzles for Children's Hospital:


The Puzzles we made as a team for the children and families of
Seattle Children's Hospital at the LFP City picnic Sept. 2017!
May You Find the STRENGTH to Face Tomorrow
in the LOVE that Surrounds You Today!